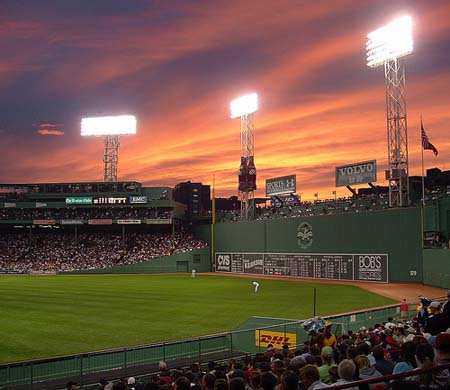 Some of the greatest baseball bets of all time have been on the Red Sox, surely the best baseball team of all time. It is befitting that these big gamblers put their trust in such a team, and some of those who did won big. Whether it was an against the odds stroke of luck, or an astute prediction of the team's success, here are some examples of when the Sox allowed gamblers some pretty serious returns, and no doubt made their lives as a result.
Betting has a very mixed reception and checkered past in the USA, and the Red Sox have quite a history with organised gambling, with Boston considered to be the capital of baseball gambling by the time that Harry Frazee bought the team in 1916, who himself was noted for entertaining "more gamblers in his right field pavilion every day than the rest of the majors combined". This would culminate in the 1917 Fenway Park riots, in which a combination of adverse weather conditions and the involvement of organised gamblers, enraged by Chicago beating Boston, resulted in crowds of spectators storming the pitch.
Even the players themselves weren't safe from the throngs of people, with White Sox third baseman Buck Weaver making unconventional usage of his bat to defend himself before fleeing the field. This event, as well as the equally notable Black Sox scandal, left the reputation of the game in ruins; it took the heroics of Babe Ruth, with his celebrity status and larger-than- life persona, to restore baseball as the national pastime and reinstate it in the hearts and minds of the American public.
Gambling on the Sox has continued since, with varying degrees of success for those who have had the forethought and the luck to invest their money wisely. 
You may have heard of the big wins of David Oancea, when he bet on the Kansas City Royals to win a cool $2.5 million, but his gambling nous extended further than that, to win big on Holly Holm, the Baltimore Ravens, the Texas Rangers, and, to top it off, the Red Sox in their awesome victory of the 2013 World Series. He's a talented and clever gambler, one whose sporting expertise translates well into his trust in the Red Sox – not to mention the gazillion dollars that he probably now has at his disposal.
You may remember the bumpy ride that was the 2004 World Series for the Sox. Initially beating the Anaheim Angels, the Red Sox were one of the favorites to win, with only four teams left in the running. In an apparently cruel twist of fate, the Yankees took a 3-0 series lead on them, leading to the very distant odds of 120-1 of the Sox to win the entire post-season. When they stormed back to win the ALCS, and flattened the Cardinals, those who won, won big.