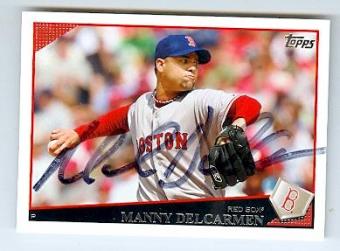 A buddy of mine who's down at Red Sox spring training sent me a text a couple days ago that read, "just saw Manny Delcarmen at the ballpark." At first, I assumed the guy saw someone who looked like Delcarmen or that, more likely, Manny D had taken a job as a groundskeeper at JetBlue Park.
But, lo and behold, there's Rob Bradford at the EEI blog confirming that yes, Manny Delcarmen is on the scene at Red Sox spring training, and actually looking to make the team.
Not much of a story, to be sure. Spring training sees plenty of old-timers and burnt-out phenoms roll through the gates looking for a second or third chance. But this one gets me in the shorts because my Dad and I used to go watch Delcarmen pitch for West Roxbury High back in the day. The kid looked like he was gonna be something, and when he made the bigs, it gave the old man and I a sense of "westie pride," as if we discovered him ourselves chucking balls at 98 miles an hour behind Roche Bros supermarket.
Can't imagine anything's gonna come of this; Delcarmen was, unfortunately, a wondrously shitty pitcher in his time with the Sox. But we're always looking for a feel-good story. Just ask Grady Sizemore and Rocco Baldelli.