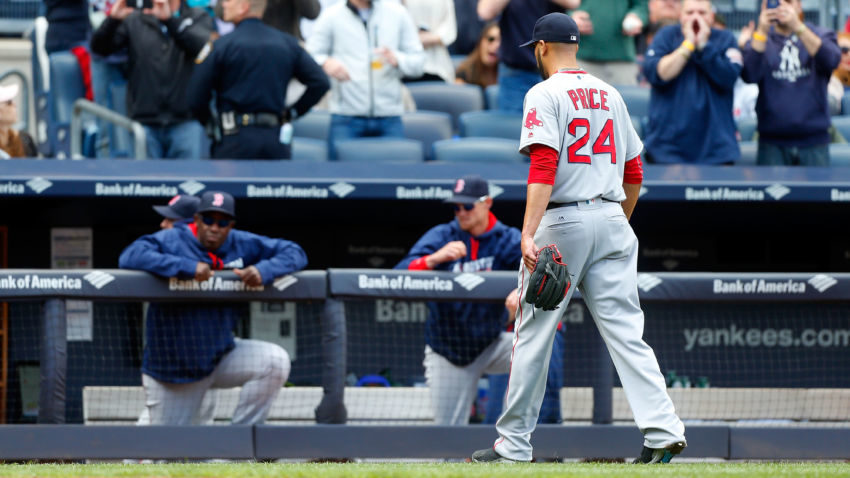 The last time David Price pitched a game for the Boston Red Sox was game two of the Cleveland/Boston mash-up in the 2016 ALDS. I was in a hotel bar in Chicago, deadening my senses with whiskey and Stella, explaining to my drinking partner, a co-worker from England, just what the fuck this "baseball" business was all about. By the time Price left the game in the fourth, having given up 5 runs and kicked the tar out of my postseason dreams, I was ready to jump ship and swear my allegiance to cricket. Now, as if we need any more news to shake up the NJ gambling arena, keep World Series oddsmakers on their toes and and give the Yankees a false sense of hope, the Red Sox have made it official that Price will start the 2017 season on the DL.
When news of Price's forearm and elbow soreness first hit the streets, it elicited tweets like this. And when it was announced that Price was getting opinions from Dr. James Andrews and Dr. Neil ElAttrache, most of us wondered if the next time we saw Price he'd be sporting one of those Winter Soldier metal arms.
The good news is, he doesn't need surgery. But the uncertainty lies in the "rest and rehab" prescription. Basically, Price, who was seen chucking baseballs against a trampoline as part of his throwing program, will be back whenever he feels like he can do it without compromising his health and livelihood.
Of course, we all want Price to get well soon. But as a fan, I am edge-of-my-seat eager to see the three-headed Price-Porcello-Sale monster mow down opposing batters and burn their hopes to the ground. If I have to wait until May to see it, so be it. But it ain't gonna be easy.