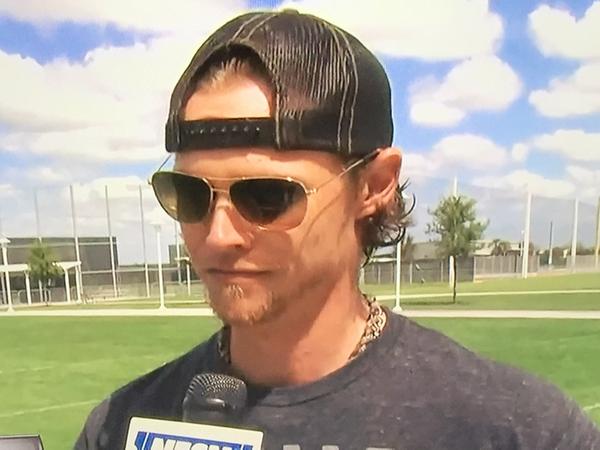 Earlier this month at the Winter Meetings, the Red Sox traded for Chris Sale, a move which has given them a total of seven starting pitchers: Sale, Porcello, Wright, Price, Pomeranz, Buchholz, and Rodriguez. Along with these, Boston also has depth starters Brian Johnson, Henry Owens, and Roenis Elias, all of whom are likely to begin the New Year in Triple-A Pawtucket's rotation. Although nothing is necessarily imminent right now, it's looking likely that the Red Sox are going to trade either Pomeranz or Buchholz.
According to Red Sox president of baseball operations Dave Dombrowski, the Red Sox have had a lot of phone calls about their pitchers, he said at the Winter Meetings. However, he said that at this point, the team are 'kind of sitting back' whilst they collect their thought processes and 'digest' what's taken place. He went on to say that the Red Sox are not aggressively looking to do something just yet and won't be rushing into the decision.
Reportedly, other teams are more interested in Pomeranz than Buchholz, however, this hasn't stopped the Red Sox from making the latter 'more available'. The Miami Herald reported that the Red Sox wanted righty Luis Castillo, the Marlins' second in line prospect, in exchange for Buchholz, however, Miami refused the offer. With the deal, the Red Sox are looking to be under the $195m tax threshold which has been set for 2017 trading. Securing a trade deal for Buchholz, along with all or most of his over $13m per year salary, would secure plenty of room during the season for the Red Sox should they need to update their roster via the trade market.
But, trading Pomeranz would also allow the Red Sox to cut down some of their salary expenses. According to MLBTradeRumors.com, the player is likely to earn around $4.7m during 2017, which will be his second year of arbitration. Along with this, Pomeranz seems like a good choice for a trade deal as the Red Sox are more likely to get a better prospect in return for him than they would for Buchholz.
After trading so many prospects for Sale, Tyler Thornburg, Pomeranz and Kimbrel, the Red Sox are clearly in need of a system rebuild. Pomeranz went 8-7 with an ERA of 2.47 in seventeen starts playing for the Padres before he was traded to the Red Sox this year. So far, he has been praised for featuring an excellent curveball, and has been described as having 'trade value'. If you enjoy betting on baseball and want to back Pomeranz and the Red Sox, see this Ladbrokes review.
However, Buchholz, who will be a free agent once the 2017 season comes around, has been prone to injury throughout his career with the Red Sox, a factor which has certainly contributed to his lesser trade value right now. He thrived during the second half of this year's season whilst under Brian Bannister, the team's assistant pitching coach, who is set to return to the staff at the Red Sox for 2017. From July 21 until the end of the season, the righty went 5-1 with an ERA of 3.22 in nineteen outings and eight starts.
Pomeranz
Meanwhile, at Fenway Park, Pomeranz struggled this year. A lefty, he went 0-2 with an ERA of 6.43, and 1.61 WHIP in seven outings and six starts, compared to posting an ERA of 3.32 in just seven outings and seven starts for Boston whilst on the road. However, his success as a reliever should also be considered, with critics believing that the Red Sox could use the left-handed insurance in the bullpen that he provides.
Who do you think the Red Sox should trade?