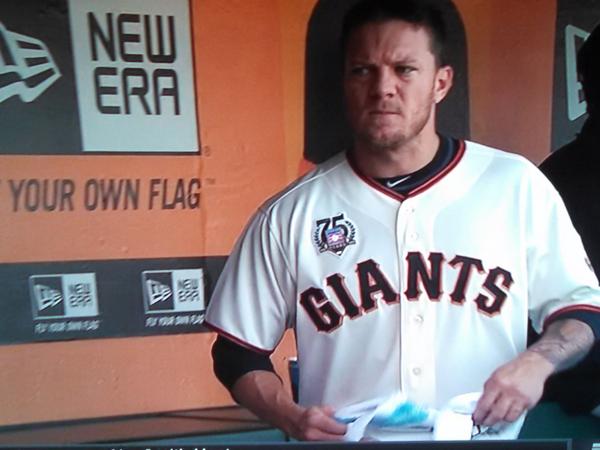 As much as we loved having him around, no one on the 2014 Red Sox seemed to need a change of scenery more than Jake Peavy. This season was becoming a 500 pound gorilla strapped to his back, and his 1-9 record despite at least nine quality starts — Peavs had the second-worst run support of all qualifying pitchers in the majors at 2.76 runs per game — was screaming for someone to press the reboot button.
When a trade was announced to send him to San Fran, I was a little bummed — Peavs was a character among characters and his intensity and quirky personality made him an instant favorite in my book. But a move to the National League and a fresh start seemed just the prescription to turn his fortunes.
Now, however, I'm convinced the dude might just be snakebitten. He lost his Giants debut after giving up four runs, and in his second Giants start last night, he carried a perfect game into the seventh inning. And still lost.
Not that it wasn't a beautiful thing while it lasted. "Jake Peavy" was trending briefly on Twitter and his perfect game bid caused the MLB Network to give him the "we interrupt out regularly scheduled programming" treatment.
But because this is Jake Peavy, nothing can be simple. His opposing pitcher, the Mets' Jacob deGrom, took a no hitter of his own into the seventh. So Peavs, as is par for the course, had no run support. And then came that phenomenon we know all too well in Boston, when Peavy has that one meltdown inning that seals his fate. In this case, it was right after he lost his perfect game bid when the floodgates opened and New York scored four times. Which was enough for the win.
Some day this has to break, right? This string of bad luck's gonna lift and Peavy's gonna be carried off the field on his teammates' shoulders and there'll be sunshine and candy and new bikes for everybody. But until then, man… I just feel sorry for the guy.