I felt a little bit of heat coming down, so decided it was in my best interests to get out of town for a couple days. I polished off the last of the beer, three-quarters of a cheap cigar, packed a small suitcase, and hit the road.
First stop down 95 was McCoy Stadium to see Henry Owens in his AAA debut. And I gotta say that for all the pomp and circumstance and whispers in dark alleys about how he's the one untouchable in our farm system, the kid we've got Sinatra-size plans for, Owens seemed pretty comfortable in his new AAA surroundings. As I stumbled in the gate and toward the beer stand, I stopped for a few minutes to watch him shuffle across the outfield before the game, survey the crowd, drink his water and soak it all in. I even snapped a few pictures because I know you kids love the pictures.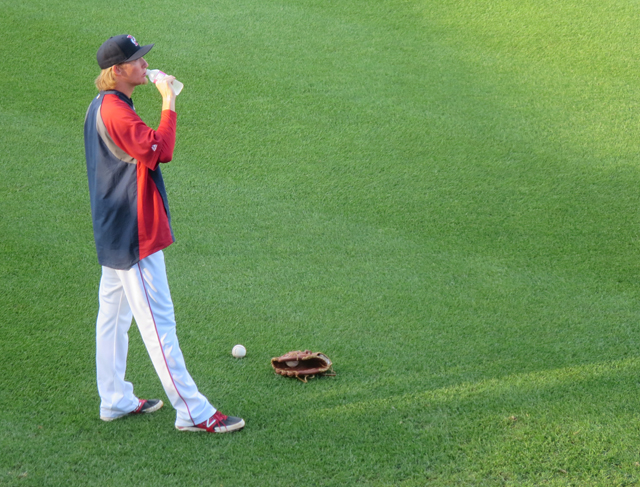 Once the game started, Owens didn't disappoint. Struck out the first batter he faced in his first AAA game. Then he struck out the next two to retire the side, 1-2-3. Then he struck out two in the second inning. Then two more in the third. Hit 93 on the radar a couple times and kept the Columbus hitters off their game.
Before we were even halfway through the game, Owens had racked up 8 strike outs while giving up no hits. And I was in my happy place, filling my gut with dollar hot dogs (thank you, McCoy dollar menu night), downing a couple more brewskis and using my phone to secure a room at the shadiest hotel I could find. Columbus didn't touch Owens for a hit until the sixth. By then they were already down 3-0 and probably thinking about the 10 o'clock show at the Foxy Lady. I know I was.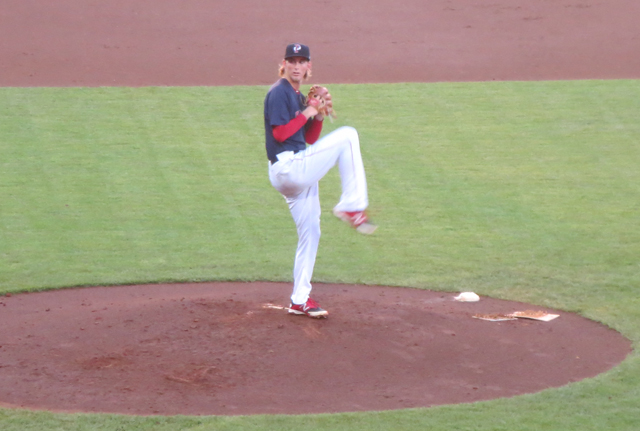 By the time Owens was lifted in the top of seventh, I was about 9 hot dogs deep. His final line was a lot more impressive than mine: 6 and 2/3 innings, 2 hits, 9 strikeouts, 2 walks and no runs.
A great performance, yes. But I was more taken with Owens' composure. His control. His grace under pressure with all eyes on him. Because he knows what's up. The Red Sox just traded away half their pitching staff. Clay Buchholz and Allen Webster turned in back-to-back shit jobs. An off day for the big club meant that McCoy was crawling with concerned citizens, looking for some bright spot in a dark stretch that started around the trade deadline. Some sign that decent pitching is something we can dream about seeing again. He came, he saw, he conquered. And when he left the mound, we gave him a standing ovation.
As I type this from a shifty motel on the RI/Connecticut line, sports radio is already buzzing about Owens. Will we see him this year with the big club? Is he being showcased for Miami? Is that his real hair? I will say only this: Let's not Schiraldi the guy. Give him time. Let him build the skills. The repertoire. The mastery.
We've got nothing but time, Red Sox Nation. Nothing but time.