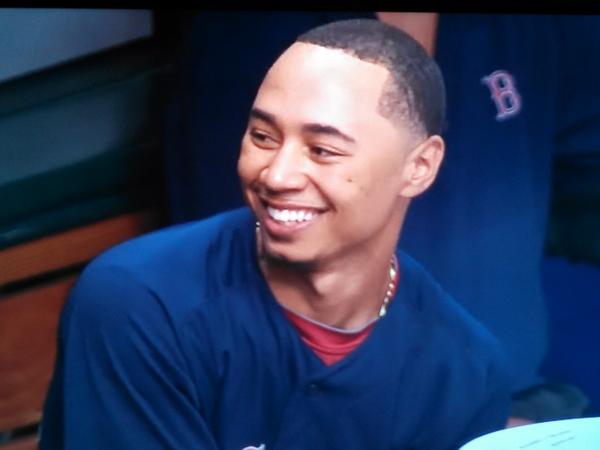 I think we can all admit that this Red Sox season has, for the most part, been only slightly more enjoyable than being hooked up to a self groin-kicking machine. We look for bright spots where we can find them, whether it's Daniel Nava becoming a wildly indispensable part of our line-up or Craig Breslow successfully teaching his niece to parallel park.
One such bright spot — and a guy who has brought unquestionable joy to me over these last gasping moments of the season — has been Mookie Betts.
There's a reason Betts was such a buzzed-about prospect; the kid's got the goods. He's provided a nice jolt at the plate. In roughly 100 fewer games, he's got almost half as many home runs as Xander Bogaerts, a far more heralded rookie, has this season. He hit another one last night, which happened to be his first major league grand slam:
Beyond that, he seems to provide us with a new highlight reel catch every other day — which ain't bad when you consider he's a converted infielder.
But what I find most intoxicating is just how much the kid seems to enjoy being in The Show. That smile pasted to his face every time he crosses the plate? And the way he'll sheepishly glance at the Fenway video board to catch a replay of his latest diving catch? That's the real deal. I can almost hear Brad Pitt whispering, "How can you not be romantic about baseball?" every time I see it.
All of this would make me hungry for the Red Sox' 2015 season to get going. Except I just don't see Betts being a part of it.
Let's face it, before they plunked down huge green on Rusney Castillo, the Sox already had an overabundance of outfielders, including Victorino, Craig, Nava, Cespedes, JBJ and the Mookster. Of all those players, Mookie would seem among the more desirable to other teams. While I like to think Mookie's late-season heroics are the shape of things to come for Red Sox Nation, the logical part of my brain assumes his stint to be akin to the Home Shopping Network for other MLB GMs. And in a season that's already dropped a garage door on my nuts, I'm just not ready for any more disappointment.
It's easy to get attached to these players. And Mookie's infectious style of play is making an otherwise shitty season a little less shitty. But after the Jon Lester deal, I've got to maintain that stone wall up around my heart.
Sorry, Mook.