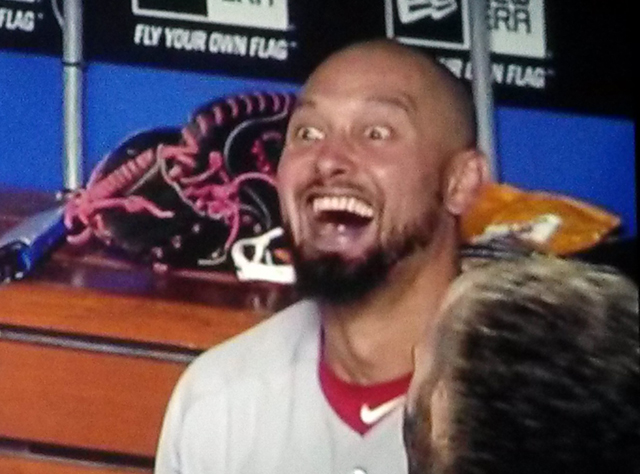 After Wednesday night's walk-off win, I sat quietly with my beer, explaining to the near-empty bottle that what I was seeing was encouraging, but that I fully understood the 2014 Red Sox were down for the count, playing for nothing but pride or being the spoiler at this point, 10 games out and 11 games under .500.
But then Thursday night's walk-off win happened, starring none other than Mike "the anti-tan" Carp. And without even realizing what hit me, I was all in. All over again.
Folks, the last 48 hours have been a smorgasbord of feels for Red Sox Nation. Wednesday night we saw a come-from-behind win in which the Red Sox — yes, the 2014 Red Sox — scored 5 runs across the last two innings. Last night, we had a trip down memory lane as Mike Carp, Utility Man of the Gods and the 2013 version of Mark Kotsay, knocked in the winning run. And before it all went down, we had the first major post-Sizemore player jettisoning, as AJ Pierzynski was DFA'ed.
Now I'm seeing hints of bigger things that might not be there. Like how on Wednesday, the walk-off was powered by Brock Holt, part of the New Guard, and how last night, it was fueled by Carp, part of the Old Guard (which I will herewith define as "people who were hear last year.") Is this a cosmic confirmation that this team has finally aligned and found its identity? Or some sort of team response to Pierzynski's departure? Is it a true corner-turning right before the All Star break?
All I know is that watching Shane Victorino cheering on the boys from the bench on Wednesday night brought me back to 2013, when anything was possible and a 5 run deficit in the late innings was just our way of letting other teams feel like they had a semblance of a chance against us.
I understand that this is a new year. And repeating as world champs is tricky business. Not to mention the Red Sox are a staggering 9.5 games out of first place in the East.
But after two goddam games in July — an all-too-rare set of back-to-back wins — I'm already doing the math on October baseball.
And in my mind, it's pretty fucking good time.