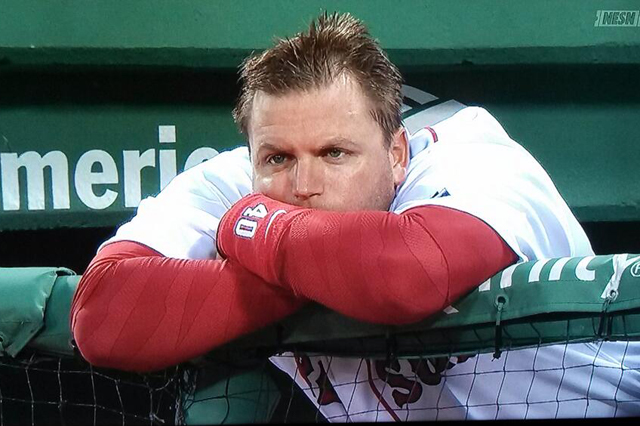 The cynics among us would say that the title of this tweet is referencing things that we will never see. But as this holiday weekend has infused me with bright summer optimism (and–I can't lie–shitloads of beer), I will tell you that it refers to things I desperately want to believe in.
Yes, I can envision a world in which I tap a keg with sasquatch, ride Nessie for a couple hours (easy pervs; I mean riding on her back) and get home in time to see AJ Pierzynski knock in a 4-for-4 Xander Bogaerts with the winning run in a dramatic walk-off victory that pulls the Red Sox to an even .500 for only the second time since the first week of April.
I bet you can see it, too. Can't you?
The Red Sox are 4-6 over their last 10 games. The only thing standing between us and being 10 games below .500 by nightfall is Jake Peavy. And to make matters worse, the Rays are on something of a tear, dragging themselves up from the basement and, apparently, readying their apartment for us.
These are troubling times, indeed. And as days slip off the calendar and the Red Sox still can't lock into any semblance of consistency, I'm forced to imagine a world in which we quietly, humbly log off from 2014 with a losing record.
But at the same time, I can envision the Sox going on a post-All Star break run for the ages. Yes, it's about as likely as a UFO filled with Heidi Watney clones crash-landing into my pool and explaining that the only way to repair their ship is through passionate lovin' with a pale-ass blogger. But that doesn't mean it can't happen. Hasn't this team earned some kind of mulligan for our belief in what it can or can't do?
All I know is that I won't stop hoping for the turnaround. Just like I'll never stop peering out my window, hoping for that UFO.