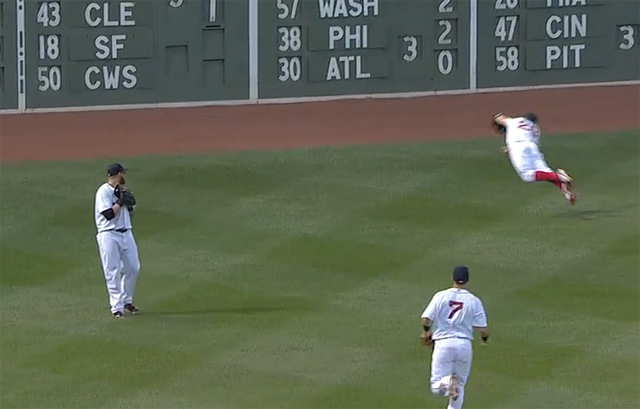 Just a couple weeks ago, this season seemed lost. The Red Sox' seven game win streak was a distant memory, and a season of mediocrity — or worse — seemed laid out before us.
Tonight? Well, we're still a sub-.500 team. But Brock Holt is turning each low-scoring, offense-challenged game into must-see TV.
The guy who was called up to fill a void has become an integral part of the team. Now we're building things around him, moving him from third to first to right to center to the hot dog stand under the bleachers to keep his potent bat in an otherwise anemic line-up.
In the latest Triomphe de Holt, he came to the rescue of Jonny Gomes, who was utterly baffled by a fly ball lost in the lights. As Gomes sputtered, Holt zoomed from his perch in center to left, making a diving snare of a ball that he really had no business catching. It was one of those insane web gem moments that underscored how much lightning in a bottle this kid's got.
Here's a shitty vine of said catch. Hypnotic, isn't it?
And here's the whole play:
This was supposed to be the season of Xander Bogaerts, rookie sensation. Instead, we're all in on Holt. And the games are kinda fun again.
Oh, I almost forgot–the Red Sox won their second one-run game in a row. Lester was in rare form, and the bullpen corp of Badenhop, Breslow, Tazawa and Mujica (!) shut the Twins down through 2.2 innings, allowing no hits. Mujica looked particularly sharp closing out the game, and I swear I am sober as I type this. He looked good! Closer-like, even! Holy shit!
More baseball Wednesday afternoon at 1:35. See you there.