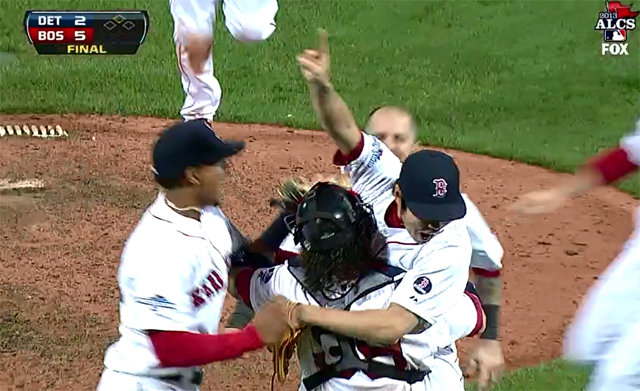 Putting the exclamation point on one of the most inexplicably awesome seasons since 2004, the Red Sox closed out the ALCS tonight at Fenway Park, besting a Tigers team that, at least on paper, seemed a superior opponent. But this Red Sox team is built of heart, resilience, booze and your uncle's dirty magazines, and when shit got tough, they made all the right moves. Among the highlights:
A Xander Bogaerts double off the Wall followed by an Ellsbury single that drove him in for the first run of the game.
Some smooth defense from Pedroia, squelching a Tigers bases-loaded, nobody out threat by starting a double play that included Salty running down a truly befuddled Prince Fielder.
A grand slam from Victorino, which marked redemption for an earlier gaff where he couldn't put down a bunt with two on and nobody out.
More great D from Stephen Drew, who may be as effective as a hat rack at the plate, but made a killer snare of a Miguel Cabrera ground ball seemingly destined to be an RBI single up the middle.
And, of course, another stellar performance from Koji to tie it all together. The fact that Jose Iglesias made the final out–and also figured prominently in Shane's grand slam by bobbling a grounder that could have been a DP but instead loaded the bases–just made it all even more delicious.
So now, it's official. The Tigers have been vanquished. And the Red Sox, who were literally scraping the bottom of the AL East barrel last season, are now the American league champs.
Does it even make sense? Has it really sunk in yet? My brain is still trying to process it all. But I know that this is still one of the greatest feelings.
Oh and for those who are wondering, Mike Napoli's shirt was off roughly minutes after the final out.