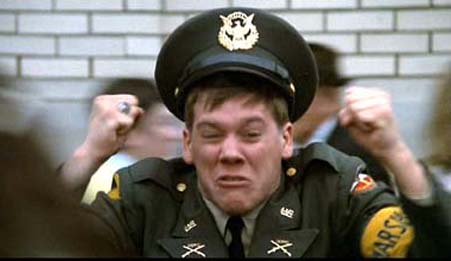 I wanted that one.
Having a 3-1 leg up on the Tigers and needing to win only one against Sanchez, Scherzer and Verlander sounded about right. We could do that, I figured. Especially with two of those games happening at Friendly Fenway, where the magic happens. Except when it doesn't.
Instead, Jake Peavy picked the absolute worst moment to shit the bed, falling into an abyss in a mess of a second inning that included a veritable parade of hits and walks and errors and saw me burn 5,000 calories just from shouting expletives at my TV. Dustin Pedroia didn't help matters that inning, bobbling a double play ball that would have ended the second with just one Tiger run plated. Instead, the bad guys got five. If Pedey makes that play… man, our world could be a very different place this morning.
To their credit, Peavs and Elf accepted the blame, with Peavy getting me all misty-eyed by saying he'd go to war with Dustin Pedroia behind him. God damn you, Peavy. That's twice you shattered my heart in one night.
If we take any positives from last night, it's that the Sox bats finally put together an impressive showing with 12 hits. Unfortunately, they couldn't do a damn thing with runners in scoring position. And for another horrific game, Drew and Middlebrooks' bats continued to be the place where all good things go to die (combined 0-for-6, which is just another day at the office for them in this ALCS).
So now the series is even at 2-2. Meaning the Sox are going to have to beat some combination of Detroit's Big Three if they wanna get to the World Series. It also means Verlander vs. Lackey II might be happening next Sunday, with all the marbles riding on it. How much gin do you anticipate ingesting prior to that contest?
My preference would be to win tonight and head back home having to win just one game. That's an achievable goal with Lester on the hill. And I hope (make that pray) that our batters have a little bit more insight to Sanchez the second time around.
I know that there's no such thing as a "must win" game that doesn't end your season. But I'm gonna go ahead and call tonight a must win anyway.