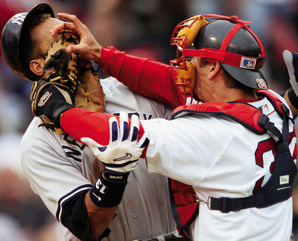 Sometimes you're the glove, sometimes you're A-Rod's face. You know which one the Red Sox were last night, dropping the rubber game of the Yankees series. That's three series in a row the Sox have lost for those of you keeping score at home. There's not a lot to talk about here. It was another sound thrashing by an offense that's coming into its own, simple as that.
Worse than the game itself was suffering through witless comments from Curt Schilling all night. I've never been a fan of anything the guy has done or said off the field, but he's got about as much business being in the broadcast booth as Lenny Clark. Quote of the night (when discussing Soriano's big, heavy bat): "last guy to swing that was Paul Bunyan." Paul f**king Bunyan? That's the most topical reference you can come up with. He's a buffoon, no way around it.
Speaking of buffoons, how about that Ryan Braun? Not quite as funny as this. But almost.
Interleague play and on the west coast. Gonna be a long week.