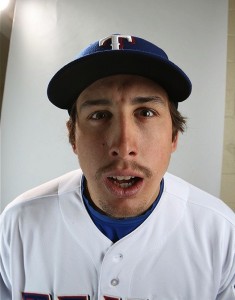 Not even the dazzling red, short-sleeve shirts that Remy and DO were sporting could brighten up this night in Texas. Derek "Vote for Pedro" Holland shut down the Red Sox, holding them to six hits, all singles. Meanwhile, the Rangers were all over Felix Doubrant, sending him to the showers in the fourth. We all know the Sox are not really as good as they played in April, but there is no way they are as bad as they played tonight. I'll call it a team-wide 24-hour slump and look forward to tomorrow.
Back in Boston, the Celtics' season game to an end. Trailing by 26 in the fourth, the Celts battled to within four, almost solely on the will of Avery Bradley. Age and lack of talent took its toll and the better team won. Throw Rondo into this series and I think the Celtics are advancing.
Red should be back this weekend from another "business trip" full of colorful stories for your reading pleasure. And the beat goes on.