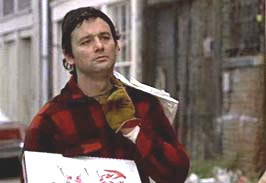 This sucks. The team is playing well, they just had their most dramatic win of the season…and now mood is ruined by the abortion they call "inter-league play." I have ranted about this every year, and I will continue to rant until they put an end to it. It sucks, there is no excitement, there is no rivalry. Oh wait, maybe they'll wear old-time uniforms! And let's have the Yanks play the Mets! And the two Chicago teams play each other and the two LA teams play each other…I'd rather let the games be decided by the sausage race.
Commish, we get the reason inter-league play was started, but that problem has been solved. For a long time. Let's get back to the days of AL teams and NL teams only meeting in the All-Star Game and the World Series.
The Boston-Philly rivalry. Yes, it brings back memories of the war between Massachusetts and Pennsylvania. And those bitter gang wars of the sixties when the Boston Bandits and the Philly Phantoms made the streets run red with blood. And that famous chess tournament when Boston's Mickey O'Sullivan castled just before putting Philly's Gino Benedetto in checkmate with his bishop.
Meanwhile, the Red Sox play are about to open a series with their bitter rivals, the Philadelphia Phillies. Just baseball. Crappy inter-league baseball.