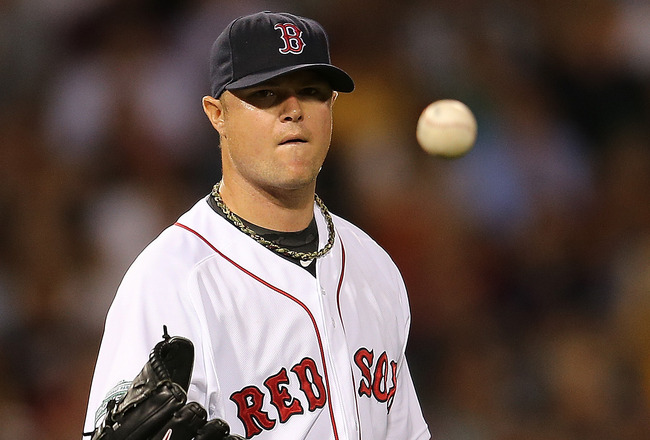 Just when we're all ready to move on from the whole "chicken and beer" attitude and the Bobby Valentine era, something like this happens. Remember the Jon Lester who beat cancer and everyone rooted for? Remember when that same Jon Lester was destined to be the next ace of the Red Sox staff? Yeah, I think those days are gone. Based on his comments, he's content to be a 15-game winner:
"What next level is there? That's the thing that frustrates me," he said. "People don't consider me an ace or don't consider me a front-line starter. Well when there are two other pitchers in all of baseball who (won at least 15 games four straight seasons), what am I? That's my argument to it. What extra level is there to it? Am I supposed to win 25 games every year? It's not possible. 

"You look at last year, how many quality starts did I have? (Note: He had 17 quality starts, same as Edwin Jackson and Jeremy Hellickson.) How games did I lose when I gave up three runs or less? I can't control the outcome of the game. I can only control being healthy every five days and going out there and pitching. That's what I consider an ace. I don't care if you're the No. 5 guy, the Opening Day guy or somewhere in between, if you take the ball every five days, you go out and pitch, bust your ass and you compete, to me, in my mind, that's an ace. So I don't know the next level. I don't know what people want from me for the next level. So I'm not concerned about the next level. I'm not concerned about what people want from me. I'm concerned that for the past six years I've taken the ball every five days, take pride in that, bust my ass in between each start and pitch 200 innings. That's all I can control."
All that's missing is a few F-bombs and "we only get ten days off during the season" and it could be a Josh Beckett interview. Not what I was hoping for out of Lester.