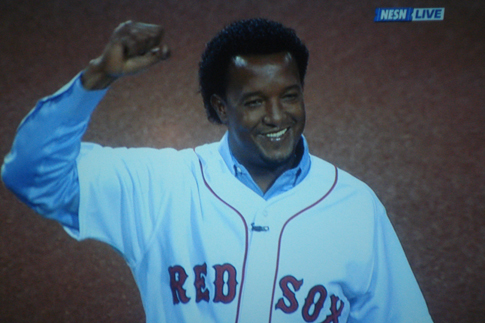 As Denton noted yesterday, the Sox have brought Pedro Martinez back into the fold. When I heard the news, I had hoped he was on as a fourth or fifth starter. But I guess "Special Assistant to the GM" is pretty cool, too.
All in all, it's a nice step toward returning a bit of luster to the team after last year's abomination. Pedro has long been the ambassador to all that is right and unstoppably awesome about the Boston Red Sox, so the very fact that he'll be involved with the team this season–and may very well pop up on our TV screens from time to time–is a good thing.
This is something that isn't lost on ownership. 2004 still stands as the pinnacle of Sox-steria, so bringing back some beloved faces from that team will certainly help to put The Valentine Era in the rear-view. Tek is already in the fold. Now Pedro as well. How far can we be from serving Mueller High Life in the stands and hosting Kevin Millar's Bleacher Dance Party?
As for what Pedro will be doing? A lot of the interviews he did yesterday seemed to imply that he'd be everybody's best friend. Maybe doling out some advice to young pitchers. Working in the community to secure the next generation of ticket and T-shirt buyers. Hopefully shooting a sequel to that awesome anti-smoking commercial he did ages ago with Dan Duquette.
Watching Pedro pitch in 1999–and pretty much every other year of his Red Sox tenure–was like a religious holiday in my house. I'm not sure how much of his raw talent and baseball instincts can be imparted to the young'uns, but I'll take whatever he's got–even if it's just showing players the proper way to react when confronted by a charging Don Zimmer. His mere presence has already made this season better than 2012.
Welcome back, Pedey.