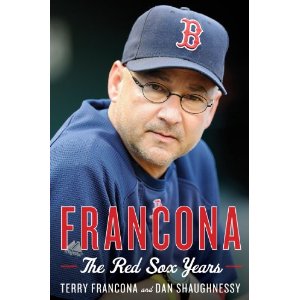 Who in Red Sox Nation is not salivating to get their hands on this? It hits the shelves on January 22nd, and I will be there to grab a copy. I'm hoping Tito spills his guts and doesn't take the so-called high road.
Here is the description from Amazon:
From famed manager Terry Francona, a lively, unvarnished narrative of his tenure with the storied Boston Red Sox 

From 2004 to 2011, Terry Francona managed the Boston Red Sox, the most talked about, scrutinized team in all of sports. In Francona the legendary manager opens up for the first time about his eight years there, as they went from cursed franchise to one of the most successful and profitable in baseball history. He takes readers inside the rarefied world of a 21st-century clubhouse, from 2004 when they won their first championship in 86 years, through another win in 2007, to the controversial September collapse just four years later. He recounts the tightrope walk of managing personalities like Pedro Martinez and Manny Ramirez, working with Theo Epstein and his statistics-driven executives, balancing their data with the emotions of a 25-man roster, and meeting the expectations of three owners with often wildly differing opinions. Along the way readers are treated with back-slapping, never-before-told stories about their favorite players, moments, losses, and wins.

Those eight years were a wild, unforgettable ride, and now the fascinating full story can be told in a book that examines like no other the art of managing in today's game.