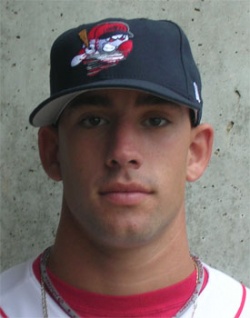 So, the Red Sox haven't played baseball since September. Now it's late January, just a few weeks away from spring training, and Ryan Kalish decides to have surgery? Wouldn't it have made sense to have the surgery right after the season and already be four months into recovery? Instead of being the Red Sox fourth outfielder, Kalish will be sidelined. Again. Twenty-four years old and this is his third or fourth surgery. Maybe like Mike Napoli and his rotting hips, Kalish just didn't drink enough milk growing up. Or something.
To offset the loss of Kalish, the Sox have signed Ryan Sweeney to a minor league deal. If they can keep Sweeney from punching any doors, he might be a nice addition. Rob Bradford broke down Sweeney's numbers from last season.
However, his production diminished considerably after he suffered a concussion while making a spectacular diving catch against the Phillies. At the time of that injury, he was hitting .311/.341/.443/.784. Thereafter, he hit .183/.247/.268/.515. In parts of seven big league seasons, he owns a lifetime average of .280 with a .338 OBP, .378 slugging mark and .715 OPS.
Interesting. The loss of Kalish also may mean more playing times for Jonny Gomes. But is that really a good thing?
Just a few more weeks and we can start to wash the stink of the 2012 season off of us for good.