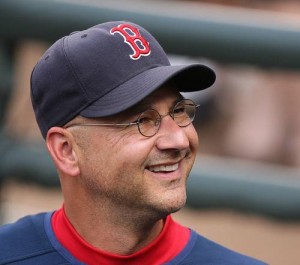 The first glimpse of the Terry Francona book went public and it looks like it is going to be a must-read. Peter Abraham over at Boston.com printed a few quotes from the book.
From Theo Epstein:
"They told us we didn't have any marketable players. We need some sexy guys. Talk about the tail wagging the dog," former general manager Theo Epstein says in the book. "We'd become too big. It was the farthest thing removed from what we set out to be."
From Terry Francona:
"I don't think they love baseball," Francona says in the book. "I think they like baseball. It's revenue, and I know that's their right and their interest because they're owners … It's still more of a toy or hobby for them. It's not their blood. They're going to come in and out of baseball. It's different for me. Baseball is my life."
Have I mentioned how much I miss Tito? I hope he holds nothing back. Release date is January 22nd.