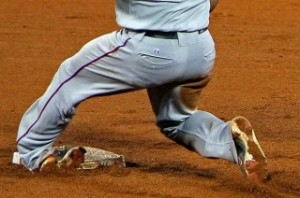 Based on the picture above, you would think Mike Napoli would have needed surgery or some robotic ankle installed. Instead, he caught all 11 innings of Game Six in last year's World Series. Napoli was signed by the Red Sox but the press conference has been delayed twice, sparking speculation that the deal is in jeopardy due to findings during his physical.
Would it be a bad thing if the deal fell apart? I don't think so, he has a very JD Drew-like injury history:
On the other side, Napoli hasn't exactly been the picture of durability. He has only topped 114 games or 432 plate appearances once each, and that was in 2010, when he appeared in 140 games and had 510 plate appearances with the Angels.

Otherwise, it's been a litany of injuries. Napoli was limited to 108 games last year by a quad injury. In 2011, he missed a month with an oblique strain. In 2008, a shoulder injury that would require postseason surgery cost him another month. In 2007, he missed almost two months with a high ankle sprain.
Spend the 39 million on pitching.