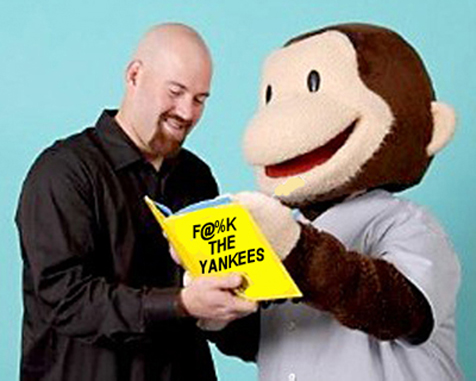 Following in the grand tradition of Mark Bellhorn, Mike Myers, Alan Embree and Diego Chipotle, Kevin Youkilis, who will forever by known to me as Youkbacca, has signed a one-year deal with the Yankees. There, he will presumably fill the third base void left by an ailing/underperforming A-Rod, sweat bunches, and dissolve clubhouse towels to ashes.
Hell, even Johnny Damon thinks things will be fairly awesome for Youk in the Bronx:
"He will be fine,'' Damon said. "Especially since Boston traded him. Now he realizes it's a business and you have to take care of yourself.'
Myself, I could almost care less. We pawned him off on Chicago last year so it's not like the guy was set to sign with us and jumped ship to the USS Jeter. Guy's gotta eat and feed his family. Not to mention the price of beard care products is forever escalating. I'll cheer when he Ks and boo when he homers off us. Sure, seeing him in the stripes will seem odd. But I don't see myself constructing any elaborate signage depicting Youk whizzing on a Red Sox cap to haul to Fenway for his first trip back.
For what it's worth, here's what I wrote this back in June when the dude was shipped to the White Sox:
Youk. Yoooouuuuk. The Greek God of Walks. Youkbacca. The Filthy Lumberjack. Doctor Zaius. Hillbilly Pete. Jeffrey Gainseworth, OB-GYN.

Yes, we had a lot of names for Kevin Youkilis during his tenure with the Boston Red Sox. That's because he was a character. A dude who looked like he feasted on human beef and wrestled lions in his spare time. A profusely sweating, horrifically bearded monolith of a guy, who stood at the plate like he was shooting pool upside down backward and howled at himself furiously whenever he couldn't come up with a hit when we needed one most.

In many ways, he was just like us. Wearing his passion on his sleeve. Not afraid to whack himself upside the head whenever he struck out or punch himself in the nuts when he botched a defensive play (which wasn't often).

No one would ever mistake him for Carl Yastrzemski, but he was cut from the Trot Nixon cloth–a tough, unpretentious knockaround guy who gave it all on the field. In other words, just the kind of player we like in these parts.

And now he's gone. Traded to the Chicago White Sox in a move that makes room for the hit parade known as Will Middlebrooks to take on third base full-time.

While the move doesn't surprise me — Youk logged a lot of time on the DL and looked like shadow of his past self in recent years — it still bums me out. In addition to the quirky personality that made him fun to have around, Youk was also another link to that magical 2004 season. And while he may not have been Superman in this Justice League, he certainly ranked somewhere above Aquaman and Green Arrow.
Of course, the Yankees' ban on facial hair will no doubt remove some of Youk's scare factor. I mean, without the beard, he's this: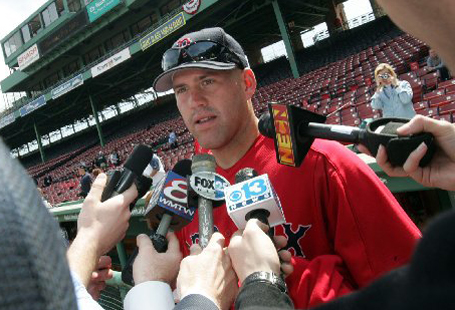 And let me tell you who's afraid of that guy: Nobody.