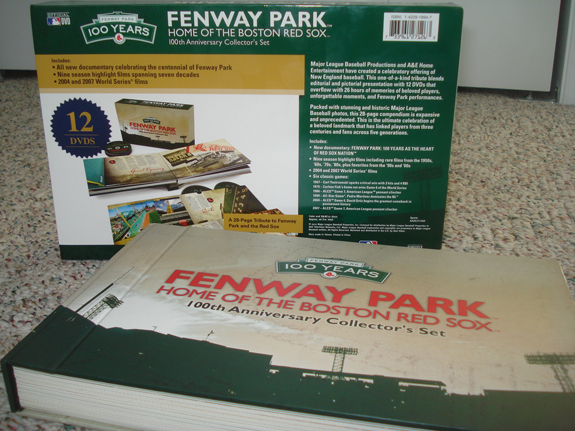 Because we are forever locked in a booze-fueled holiday glow, we are happy to embrace the holiday spirit and offer one lucky SG reader the chance to win a Fenway Park 100th Anniversary DVD Collector's Set courtesy of our friends at A&E Home Video.
The set has 12 motherflippin' DVDs with 26 hours of games and "unforgettable moments" and other stuff that will likely leave your baseball-starved mind in a drooling heap in the corner of the room. Content includes highlights from the 60s to the present; six complete games, including the Fisk game of the 75 Series, the 1999 All-Star Game at Fenway starring Pedro Martinez, Game 4 of the 2004 ALCS, Game 7 of the 2007 ALCS, Yaz's 3-hit, 4-RBI performance in a critical 1967 clincher; and the documentary Fenway Park: 100 Years as the Heart of Red Sox Nation.
And it all comes in a big, 28-page hardcover book with some pretty incredible photos. You can read the full description here.
Of course, something this majestic must be earned, but we'll make it easy for you. Simply imagine that John Henry, Tom Werner and Larry Lucchino have come to visit you on Christmas Eve, not unlike the three wise men. They get down on bended knee and ask how, in the aftermath of the single worst Red Sox season in most of our lifetimes, they can make it up to you. How they can make things better and more enjoyable and unstoppably awesome in 2013. Simply tell us your plan for bringing the FUN back to FENWAY — whether it involves talking horses, robots or Josh Hamilton. Leave it in our comments section OR on our Facebook page OR tweet it to us (because brevity is the soul of wit).
The winning entry will be selected by an impartial and likely intoxicated panel including me, Denton, a rep from A&E and my toaster.
Contest runs until 11:59pm tonight. Then we start the judging process (assuming we haven't passed out.) Good luck.