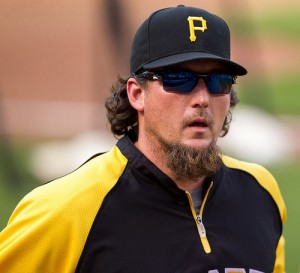 I think I've made my position on the Red Sox off-season moves pretty clear. They could salvage some Hot Stove street cred by making the trade for Joel Hanrahan. Let's face it, the Sox need a legitimate closer. Aceves was clearly not the answer – he blew eight saves and had an ERA over five. Melancon? Bard? Bailey? I don't think so. The Red Sox sorely miss the presence of a badass coming in to lock it down in the ninth. Hanrahan would be that guy.
Just look at the picture: the mulletesque 'do, the crazy chin hair, the dark glasses. Intimidating, right? Throw in the nickname "Hammer" and you've got an almost "Wild Thing" kind of craze.
Hanrahan, originally a member of the Nationals, came in to his own after making the move to Pittsburgh. During his tenure with the Nats, his best season was a 3.95 ERA. Since becoming a closer for the Pirates, he's posted a 40-save season with a 1.83 ERA in 2011 and a 36-save season in 2012 with a 2.72 ERA. They must have excellent coaching or better protein shakes in Pittsburgh. Or something.
Is there any reason for the Sox not to make this deal happen?