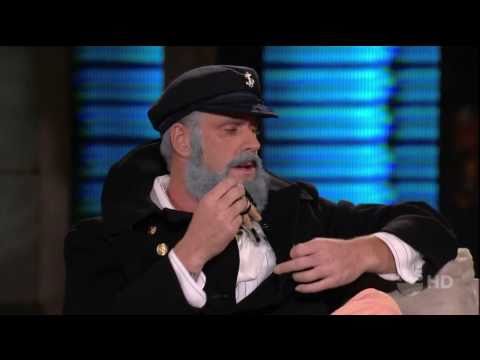 The other day I emerged from my winter booze coma to find that Magic Buster Olney had tweeted something about Brian Wilson being an interesting possibility for the Red Sox.
To that I can only give a hearty "hell yeah."
Yes, the guy's had his elbow re-built from the ground-up, which doesn't come without risks. But on the plus side, he once showed up on a talk show sporting a full nautical outfit worthy of Cap'n Crunch. That counts for something in my book.
The thing about the 2012 Red Sox–and we could probably say the same thing about the 2011 model–is that they weren't a very entertaining team. Unless your idea of entertaining was watching the NESN post-game to see if anyone got shivved in the clubhouse. I don't need the Benny Hill Show every time these guys take the field, but for chrissakes, give me something. Say what you will about Millar and Manny and Papelbon, they kept us engaged–even if part of it was wondering if/when one of them was going to show up in the NESN studios without pants on. I like the drama, the intrigue, the drunken hijinks, even if it sometimes ends in tears, like that time in the late 60s when a booze-fueled Rico Petrocelli took on the Hell's Angels and the Black Panthers while drunkenly believing himself to be a twenty-foot robot.
Bring Wilson aboard and some of that magic would return. Picture that sailor suit in the bullpen. Tom Caron and Eck giving their post-game sporting fake Wilsonesque beards. Hell, what about everyone in the bleachers sporting fake beards (new revenue stream, ownership!). Every post-game presser would suddenly become must-see TV.
He'd also help fill the role of "unhinged, hillbilly-esque lunatic" that's been open since Youk got shipped to Chicago. That's something any team with serious thoughts of contention simply requires.
And, hey, there's also the chance that he might actually be good. Though he's coming off surgery, the guy's a three-time All Star who's earned World Series stripes. Hell, we're already throwing money at a slightly damaged closer. But where we got absolutely no return for having Andrew Bailey sitting on the bench through most of 2012, the mere presence of Brian Wilson on the bench would be endlessly entertaining. Wire the guy up and let him banter with Don and Jerry when he's unable to pitch; you'll swear you're on crack every time you flip on the game. But in a good way; not like last season.
Finally, would anything be better than the Fenway PA system crackling with Tom Hanks' voice shouting "Wiiillllssssoooon," whenever The Beard emerges from the bullpen?* The answer is no.
If it could be done for short money, with lots of incentives, I say do it. Of course, it probably can't. So we won't. But that's how it goes.
*Am I the last person in the world to make the connection between Wilson the volleyball and the fact that Tom Hanks' wife's last name is "Wilson"? If so, shame on me.