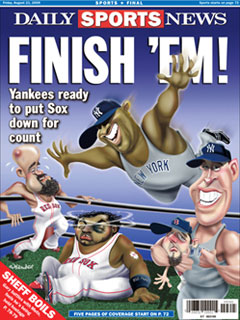 On August 1, the Yankees led the AL East by more than 6 games. But a shitty September saw them fighting right up to the end of the season to claim the division title.
Now, the Yankees are on the verge of elimination in the ALCS. A-Rod is benched. Jeter is injured. And the much-vaunted offense has five runs through the first three games.
To make the Series, the Yanks will have to pull an '04 Red Sox. And I don't see that happening. Kevin Millar is not walking through that door.
It was a good run, my New York foes. And while I'd rather be in your shoes than where the Red Sox are right now, it'll be interesting to see how you bounce back from your own September Swoon. Next year, we may find ourselves battling it out for the cellar.