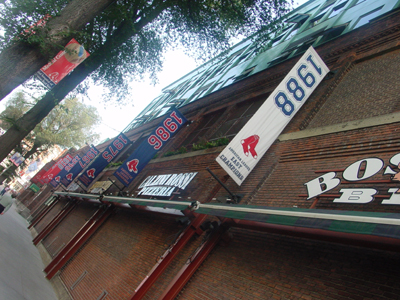 Hard to believe that it was 26 years ago tonight, on October 12, 1986, that I was hunkered down in front of a 22 inch SONY television set in West Roxbury watching Dave Henderson swat an improbable home run in game five of the ALCS to stave off sudden death and set the pace for the next two games. Actually, to be honest, I had already given up the ghost and was upstairs in the shower, returning only when I heard my father and sisters screaming bloody murder.
We were gone. Finished. Folding like deck chairs the way the Red Sox typically did when it mattered most. But Hendu performed an instant Lazarus, giving everyone in Red Sox Nation something to believe in. At least for the next 10 days or so.
Back then, a trip to the postseason was a rare occurrence, and I still remember my first taste of it. The Red Sox shirt vendors on seemingly every corner. "The Possible Dream" signs in shop windows. Mayor Ray Flynn getting a Spike Owen tattoo on his ass during a live taping of "Chronicle." Roger Clemens and Al Nipper earning Presidential kudos for disarming a Russian sub that they spotted in the waters off Revere Beach during a late night stop at Kelly's Roast Beef.
Yes, those were magical times. And to commemorate the 26th anniversary of that home run, here's a vintage clip from a Channel 7 special previewing the 1986 World Series. Yes, it includes a musical montage set to Queen's "A Kind of Magic." But it's worth it for the bit where Jim Rice and Don Baylor try to restrain a young, skinny and obviously heated Roger Clemens. Oh and please note the youthful John Dennis introducing the clip.
[flv:http://www.survivinggrady.com/wp-content/uploads/2012/10/86TV7special.flv 525 350]