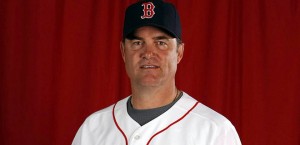 Remember when the Red Sox became obsessed with guys like Renteria and Lugo? And remember how it worked out? Seems they have the same man-crush on John Farrell to come back to Boston as skipper. Just like the players I mentioned, I don't see the fascination with Farrell.
Terry Francona was fired because "he lost control of the clubhouse." Valentine was brought in to fix that. and the Red Sox finished with their worst record in 50 years. Now the Red Sox want to put John Farrell in charge, a guy that took an 85-77 (2010) Toronto team and has led them to back-to-back losing seasons.
If you need more reasons why I don't want Farrell back, check out Peter Abraham's story today:
But the Blue Jays have seen their team earned run average climb since Farrell became manager. Toronto had a 4.22 ERA in 2010. It went to 4.32 in 2011, and 4.64 this season. The ERA of their starting pitchers has jumped by half a run since Farrell took over.

***

More damaging were the allegations veteran infielder Omar Vizquel made late in the season that the Blue Jays were a sloppy team on the field.

 ***

 Toronto also made news in September when infielder Yunel Escobar was suspended for three games after taking the field with a homophobic slur written on his eye black in Spanish. Farrell said at the time that it went unnoticed. It added to the perception that the Jays were poorly disciplined.
Doesn't sound like a guy that's going to fix everything that's broken with the Red Sox. Take a pass on Farrell and keep looking.