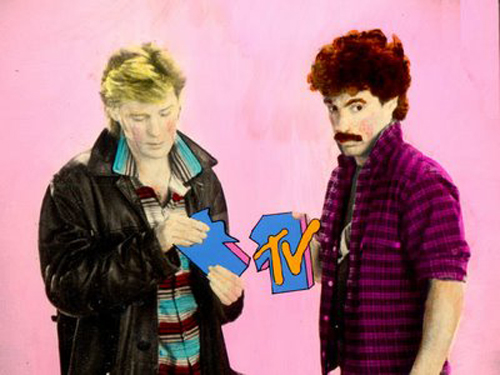 Last month, I offered some brilliant suggestions as to who would make a fine next manager of the Boston Red Sox. Now that search is officially on, I thought I'd remind the fine folks in ownership about my previous list and offer a new set of possibilities as well. Hold on to your hats.
John Oates
Pros: As one-half of the best-selling duo in pop music history, he has never had a winning season as an MLB manager, which puts him on level ground with John Farrell. Shortness of stature will translate into instant camaraderie with Dustin Pedroia. "Private Eyes" > "Sweet Caroline." The thought of post-game press conferences peppered with such lines as, "You're out of touch, Dan. And out of time," is an offer we can't refuse.
Cons: Bad mustache could inspire copycats among players, turning the team into an army of Jody Reeds. The thought of Daryl Hall being named first base coach is troubling. "She's Gone" makes even the most level-headed among us want to punch nuns.
Cornelius from Planet of the Apes
Pros: Gregarious demeanor and general respect for humans will make him a clubhouse favorite. Alarmingly hirsute appearance will appease those fans longing for the days of Kevin Youkilis. Lived over the ruins of a nuclear bomb-blasted New York City, which counts for something in my book.
Cons: Gotta be honest: the fact that he's the father of the ape who will one day spearhead the overthrow of humankind raises a red flag.
The Guy Who Runs the Frozen Yogurt Shop at the Natick Mall
Pros: He seems to know a lot about the Red Sox and what ownership should be doing; I think it's time he got a shot at the big chair. Would go a long way toward giving "management" of the team to the fans. Could even give rise to a new cash-generating idea ("Manage the Red Sox for Day!")
Cons: When he's gone, who the f$%k's gonna fetch my frozen yogurt?
Pros: Undeniably perky. Brings that sense of nostalgia for old school MTV VJs that ownership has been trying to tap into for years (I may be assuming this). If she could turn an entire nation on to Huey Lewis and the News, just imagine what she could do for Will Middlebrooks.
Cons: Can we honestly trust someone who turned the world on to Huey Lewis and the News? Also, her success may convince other '80s relics to attempt a comeback. Like Steve Lyons. Or Honeymoon Suite.