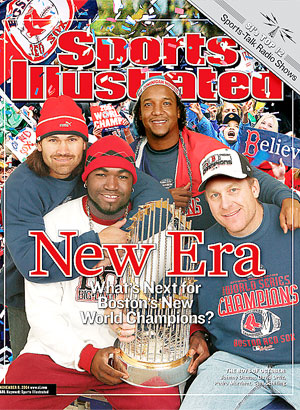 Holy schnikees, has it really been eight years since the Red Sox won the 2004 World Series? Since God finally smiled on us and gave us a little somethin'-somethin' for all the pain and heartache and booze-filled nights we suffered in years prior?
But, yeah, it was eight years ago that life as we know it in Red Sox Nation changed forever. And here's part of what I wrote in the aftermath, on October 27, 2004:
Foulke snaring the final out. Minty raising his hands in victory. Leskanic dropping to the ground and making "snow angels." Dave Roberts on Timlin's shoulders. Curt pouring beer over Johnny Pesky.

Tonight capped the single most incredible season of our lifetimes. We are dizzy, drunk, hoarse and crazed. And we won't be sleeping tonight.

And to my Dad, who took me to my first game at Fenway when I was 8, officially baptizing me into Red Sox Nation, I say thank you, thank you, thank you.

Now we know what it feels like.
Regrettably, the hundreds of comments we got that night from beer-battered Sox fans worldwide were lost when our commenting system (the late, great Haloscan) was replaced with another. But the memories–knowing exactly where we were, who we were with, who we called, and whose throat we tried to stick our tongue down the moment Renteria grounded one back to Foulke — ain't goin' anywhere.
It was eight years ago and it still boggles my mind that it happened. And that I got to see it.
Thanks again, 2004 Red Sox. Wherever you are.