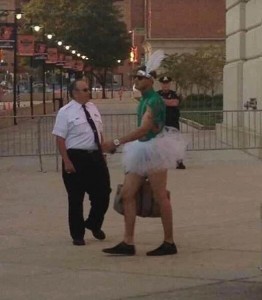 Yeah, that's Manny Machado in a tutu. I'm sure it's just part of the rookie hazing, or maybe the dude just likes showing off some leg. Either way, I'm rooting for his team in the 2012 post-season.
The Orioles were once a proud team in a city full of passionate fans. For the past 14 losing seasons, Camden Yards has become a home-away-from-home for the likes of the Red Sox and Yankees. For the past few weeks, at least, Orioles fans are taking back their ball park.
With the Red Sox…well, you know…the Orioles are my adopted team. Who's with me?