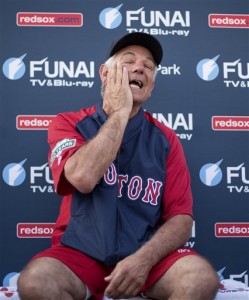 When Red and I started this blog in 2004, we were in a bad place. Grady Little had sent us into another offseason without a championship in brutal fashion. The Sox were baseball's laughing stock having gone without a World Series since 1918. Even in what turned out to be the greatest season, there were some dark times. In the years before that and in the years since, there have been some low points. But in my opinion, this is the worst season I have been through as a Red Sox fan.
I officially stopped believing in this team on June 12th. That was bad. What's worse is I don't even like this team. There are a few exceptions, but overall this is a tough team to root for. Lackey continues to hang around causing trouble. Beckett is the same lazy a-hole he was last September. And Bobby Valentine is a bumbling idiot who the game has passed by. They keep losing and nothing changes.
Until Bobby is gone and the clubhouse is cleaned out, I'm rooting for individuals. Wins and losses are irrelevant.