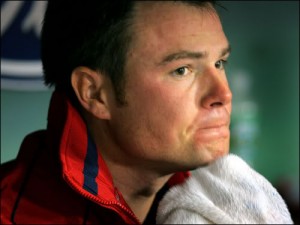 Is it the cancer-beating, no-hit-throwing, strikeout pitcher of the past? Or is it the guy we've seen recently who walks a lot of batters and can't get out of the fifth inning? If it's the latter, the Sox are screwed. This is a series the Sox absolutely need to take three-out-of-four and realistically should sweep. Because the rest of the schedule gets pretty ugly.
In other news, Josh Beckett got a "great night sleep" but is questionable for his next start:
"I'd say it's questionable for him to throw [Friday], which would then make it questionable that he would make his next start, which means he won't make it, more than likely," Valentine said
If you heard the actual audio for this, Valentine sounds like an absolute bumbling fool. How did he ever have a job in the broadcast booth?
Sox need this one, Lester needs this one. Let's go, Sox!