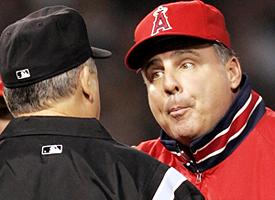 At least there used to be. Back in the day – meaning when the "wait'll next year" signs began showing up by June – the West Coast Swing was the kiss of death. It was the trip not to be named, spoken of only in hushed tones when "they" weren't listening. It was, for many years, the end of hope.
Well, that was then, this is now (I just made that up, feel free to use it). The Angels, the Athletics and the Mariners hardly strike fear into anyone…except maybe their own fans. Seattle has the same record as our Boston Red Sox, but they are so much worse. If not for King Felix, they would have ten less wins.
Oakland is decent at 70-57, good for second place in the West. As always, they do it the right way with a low payroll. There highest paid pitcher is Brandon McCarthy at 4.2 million and their highest paid position player is outfielder Yoenis Cespedes at a cool nine mil.
Tonight's opponent is the antithesis of the Athletics. They are burdened with huge, ugly contracts and their big-money players are underperforming. Sound familiar? Vernon Wells and Torii Hunter earn a combined 42 million, making the 12 million dollars being shelled out to Albert Pujols seem like a bargain.
The big problem for the Angels, and this has always been my opinion, is their skipper. Mike Scioscia is usually talked about as one of the better baseball managers. But anytime I watch the Angels, he seems to come up with some bonehead move to cost them the game. And that's what I'm banking on for this series.
Buchholz vs. Weaver, can you dig it?