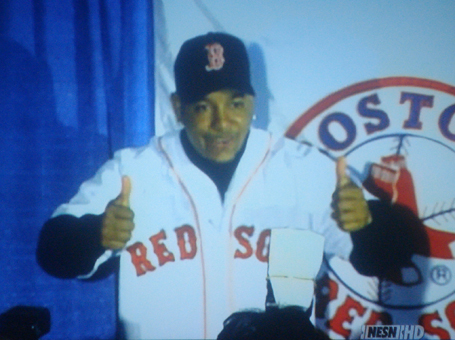 Watching Adrian Gonzalez and Carl Crawford and John Lackey and Daisuke Matsuzaka shuffle into town and collect fat paychecks for delivering a fraction of what we expected got me thinking about the last time we doled out large green and actually saw good return on investment.
And that took me all the way back to Manny Ramirez.
I remember the night we signed him. I flipped on boston.com and the headline read, "Sox Sign Ramirez." And I did what I typically did when Red Sox news hit the wires. I called Dad.
"This'll be a killer line-up," I remember saying. "Bichette, Trot, Everett… and now Manny? Who will stop us?"
Well, Murderer's Row they weren't–Manny was the only guy on the team to bat over .300 that season. But I was there for his first Fenway at-bat. The Sox were already down by three, and he stepped up with two men on, and promptly deposited the first pitch he saw into the screens above the Monster. Finally, we thought, a free agent signing who's doing exactly what we paid him for! Shit went nuts, and just like that, the Manny Era was upon us.
Since then, he went on to be one of the most productive, beloved and befuddling players of this century. After a string of players who "should hit the tar out of the ball at Fenway"–including the likes of Jack Clark, Andre Dawson, Rob Deer, Nick Esasky, et al–Manny was a legitimate menace. The type of batter who could change the course of mighty rivers with one swat of the bat.
And, even better for folks like me who enjoy players with character, there were those "Manny Moments." Losing his earring on the field at Pawtucket during a rehab stint. The water bottle in the back pocket. Martini time with Enrique Wilson. Ebay Hucksterism. That bizarre dance maneuver in which he seemed to demand a trade every season, then back off, saying he couldn't be happier here. Cutting off Johnny Damon's throw to the infield. Saying that he'd like to play for the Yankees–which, in these parts, is like saying "I enjoy kiddie porn and poisoning rabbits." High-fiving that fan in Baltimore.
But the production spoke volumes; when the game was on the line, there was no one I'd rather see up at the plate than Manny Ramirez. We paid the man to hit the crap out of the ball and he did, belting 274 home runs and 1232 hits in his seven-and-a-half seasons with us and playing a critical role in two World Series championships–something I never thought I'd see in my lifetime.
Yes, it all seemed to spiral out of control pretty quickly. One minute, he was hitting his five-hundredth home run, explaining that the Sox will most assuredly pick up his option and insisting that he'd retire here. The next, he was jaywalking, old-man-shoving and Youk-tusslin'. But pound for pound, he stands as the last great example of a high-priced, high-profile free agent signing that actually gave us everything we wanted.
Not bad for a guy who was actually our plan B after missing out on Mike Mussina.