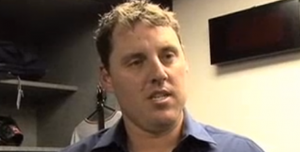 Gary Tanguay "reported" this morning on the Toucher and Rich show that John Lackey was the snitch who snuck up the back stairs and tattled on Bobby V for being mean to Will Middlebrooks. And by "reported" I mean he confirmed that any other name tossed at him wasn't the snitch, but wouldn't confirm or deny Lackey. He left it for us to figure out. To Tanguay I can only say, "grow a pair."
But to the rest of you I ask: what the hell is Lackey even doing with the team? He has been stealing from the team for years, and now he is undermining the already-fragile organization with his childish antics. Send his ugly, fly-catching face home. Or better yet, send him down to appear as a special guest on Swamp People, slather him with that nasty, rotten-chicken gravy, and toss him in the swamp.
The Red Sox enema that is on the horizon needs to include him.
Oh, Sox beat Texas 9-2. Start this week's version of "is this the run?"