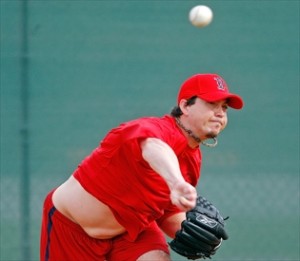 Remember when we used to call Josh Beckett "Commander Kickass?" And he used to strike fear into the hearts of batters and strike their asses out and win games? Yeah, those days are gone. Beckett is a fat, lazy has-been who clearly does not give shit one about his team or his fans. I'm actually glad he got his fat ass lit up again, we are one game closer to being put out of our misery this season.
While I'm on the subject of pitchers I used to like, throw Lester into that bucket. I have defended him all year, but after seeing his mini-Beckett impersonation last night, I'm done with him too. You don't have the right to bitch about balls and strikes when you suck. And how about him facing Kinsler in the seventh? Groove a pitch that Kinsler rips foul, then throw him the same pitch again and let him hammer it fair? Smart.
As bad as Lester was in the seventh, that inning is on Bobby V, Lester was done and Valentine was asleep at the wheel again.
Blow this f&%king team up tomorrow. Beckett and Lester need to go, Bobby needs to be fired, and Lackey needs to be stoned by the fans a la Shirley Jackson's The Lottery. Then I'd like to see what this team could do.