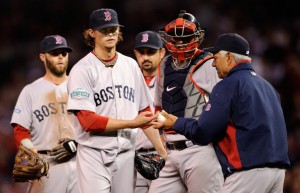 I usually don't subscribe to the theory of "must-win games" until late September or October. But if there is such a thing in July, I think tonight is it. A Red Sox loss tonight means a split with the White Sox and puts them right where they have been all year: a .500 team (or one game over to be accurate). A win tonight and they've taken three-out-of-four from a very good Chicago team. Also, Tampa and Baltimore already won this afternoon, the Sox need to keep pace.
Win/loss record aside, they need a strong outing from Clay Buchholz. Otherwise, we go into the stretch run with Aaron Cook and Felix Doubront as our best pitchers, and I think we all know what that means for any chance of October baseball. Personally, I don't understand the move to put Morales back in the pen the way he has performed as a starter.
The other big news tonight (insert trumpet fanfare) is the return of Dustin Pedroia. If they can't win with the infusion of balls and badassery he brings, all hope is lost. As down as I am on this team lately, I think they pull this one out, if for no other reason than to make the fall harder later in the season. Big outing from Clay and more noise from the bats tonight.