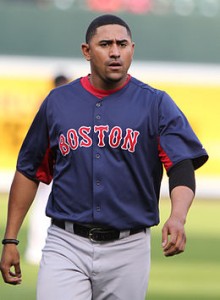 For the umpteenth time this season, we ask: is this the start of something? Franklin Morales pitched five shutout innings and Pedro Ciriaco had three more hits to lead the Sox to a much-needed win. Now reread that last sentence and tell me you could have predicted that before the season started.
Clay Buchholz returns tonight, on the heels of Ellsbury's return last night. Adrian Gonzalez, however, was not in the line-up again with his week-long mystery illness. A win tonight will bring the Sox even with the Rays for the third place spot in the East. So once again I ask, is this the start of the long-awaited run, or just another standalone well-played game?
You all know where I stand, what say you?