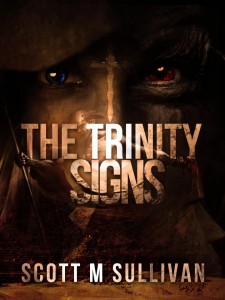 Here we are, in the uncomfortable position of having an off day after yet another nutbusting loss. So let's forget about the Red Sox for a few minutes, and let's also pretend they aren't going to get their asses handed to them in New York this weekend. Instead, let's look at something positive.
Red and I try not to hijack the blog for personal reasons (unless there is bail money that needs to be raised) but this is pretty cool. A good friend of mine has written and self-published his first novel, called The Trinity Signs. I've read it (in fact I've been reading it in various forms since 2006) and I loved it! It is a fast-paced thriller with strong good vs. evil elements and a lot of action and adventure. And the best part is, thanks to the wonderful world of ebooks, it's available for under three bucks. Seriously, you'll spend more than that on gum this week. Here is a brief synopsis, I appreciate everyone's support. Tomorrow, it's back to baseball.
Tobias is a reluctant hero thrust into his life by virtue of bloodline. He must lead the last of the Brotherhood of the Sealed in an epic journey to find and activate the fabled Trinity Signs before the Devil and its dark minions are able to enslave mankind. Rising once every one-thousand years, the Devil gathers strength as the negativity ingrained in humanity grows – it f…eeds off of it. Now with the Earth in turmoil, and man fighting man, the Devil has everything it needs to rise up and conquer an unknowing world. But Tobias has other ideas. He will risk his life to ensure the rest continue to live free.
Available digitally (eBook) at:
Amazon.com
(Kindle OR Kindle App for iPad/iPhone, PC, Mac, Droid)
BN.com
(Nook OR Nook App for iPad/iPhone, PC, Mac, Droid)
Smashwords.com
(PDF, ePub, and other file types)
iBooks
(Coming soon…)