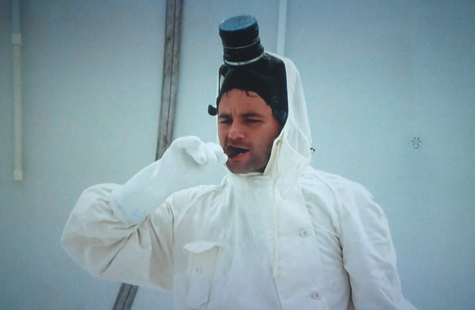 Look, by the time the dust clears on this weekend's series with the Yankees, the Red Sox could very well be more than a dozen games out of first place and even farther away from a .500 record. But that doesn't mean we have nothing to brag about. By my estimation, there are at least, er, a dozen things we can still be proud of:
We are 8.5 games ahead of the Twins in the Wild Card standings. Ya hear that? Screw you, Twinkies!
The $16,500,000 we're paying John Lackey to NOT pitch for us this year is actually one of the best investments in all of Major League Baseball today.
Jon Lester: No ties to Al Qaeda as far as we can tell.
Adrian Gonzalez' home run output increased each season with the Padres, which, if applied to his current tenure in Boston, sets him up for 150 home runs (by my rough estimate) between 2015 and 2018.
Watching the Red Sox Lose: Still More Exciting than the Olympics! (You're welcome, NESN).
Bobby Valentine is arguably baseball's most handsome manager. Also: impeccable hygiene.
Ounce for ounce, Fenway Park still holds the record for most expensive beer in all of baseball. But that money goes directly to Carl Crawford, allowing us, the fans, to feel like we are contributing to the betterment of the team with every sip.
Number of days without a squirrel attack in the Fenway stands: 67,804 (MLB record).
The Red Sox remain the only team in all of baseball whose players have never had a cavity (not sure if this is actually true, but if it is, it is f#$king spectacular).
In David Ortiz and Jarrod Saltalamacchia, we have the only two MLB teammates who could conceivably spend their weekends playing Clarence Clemons and The Boss in a Springsteen cover band that focused chiefly on his '70s output.
The lineage of Hazel Mae + Tina Cervasio + Heidi Watney + Jenny Dell indicates that NESN's farm system is by far superior to all other MLB teams' broadcast networks. And possibly the Red Sox'.
Will Middlebrooks: 2016 MVP.