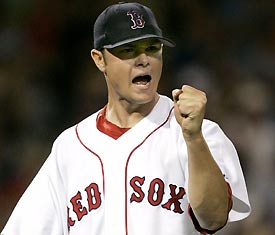 I may have given up on any hope of the team making the playoffs (sorry Ellis), but I have not given up on all the players. Guys like Pedroia and Lester are what keep me watching. Tonight, I have a feeling Lester is going to show us something special.
The Cubs are a terrible team. Their offense is anemic and them scoring even three runs on Dice-K tells you all you need to know about Dice-K's chances going forward. With Beckett sidelined with shoulder stiffness or apathy, whatever you want to call it, Lester will step up big.
Despite a couple of unusual seven run outings against Texas and Tampa, Lester is still one of the better lefties in the league. Did he already pitch more no-hitters than Roger and Pedro combined? Does he laugh at the thought of putting an "h" in his name? He is the man and he will prove it again tonight.