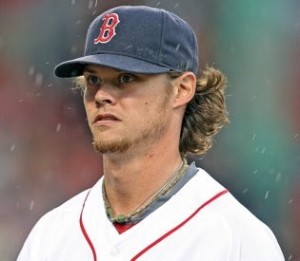 Clay Buchholz went the distance in a 7-0 win at "sold out" Fenway Park. This marks the first time in six meetings at home against the Orioles that the Sox have grabbed the W. In Clay's last six starts, he's given up three or fewer earned runs in five of them and gotten the win in three of them. His ERA in those six games is an impressive 3.1 and his season ERA has gone from 9.09 to a getting-respectable 5.77. Does the 125 pitches concern anyone besides me? If he gets shelled in his next start and is in the showers by the third, it's on Valentine.
Just as important as the pitching performance was Adrian Gonzalez going 3-for-4 with a double and two RBI. The worry-meter on talk radio was inching toward the red with Gonzo's slump, this will silence the critics, at least for a day. On the other side of the coin, Pedie was hitless and that thumb has got me worried a lot more than Buchholz throwing 125 pitches.
Celts down 18 in the fourth…nothing is easy.