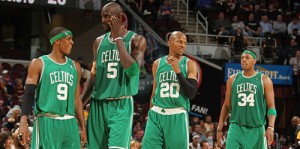 The Boston Celtics have an opportunity to knock the Miami Heat out of the playoffs. Despite the fact that no fouls were called against the Heat in the fourth quarter until there was 3:49 left. Despite a horrible call that would have given the ball to the Heat after Haslem clearly knocked it out of bounds (thank you instant replay with less than two minutes left). Despite an amazing fourth quarter by Dwyane Wade. Despite Chris Bosh having the biggest mouth in NBA history.
The Celtics have played with more heart than any team in recent memory and are now one game away from the NBA finals. With all of the amazing individual plays, Paul Pierce staring down LeBron and hitting a three right in his face with the shot clock running down was the biggest. I don't know if the Celts have the physical talent to beat either San Antonio or OKC, but sending Miami home is a win in itself.
Thursday night in Boston, folks, don't miss this one.