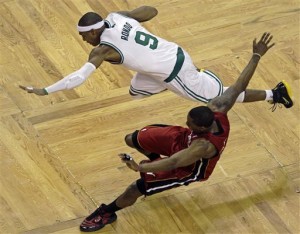 With eight minutes to go in game seven against the Heat, the Celtics had a one point lead. Then it all went wrong. When the buzzer sounded, the Heat were on their way to the NBA Finals, and the Celtics were on their way home. Perhaps for the last time as "the big three."
The simple fact is, the Heat are a younger, more physically talented team than the Celtics. It was sheer heart, teamwork, and great coaching that got them to game seven of the Conference Finals. That does nothing to erase the scene of LeBron hanging from the rim over Rondo for thirty seconds, then trying to kick him.
It's time to break this thing up and build a team around Rondo. It was clear through most of the series he is the only one that played every minute with energy and intensity. Pierce spent more time crying to the officials than he did making baskets while KG killed momentum with his cheap fouls. We have a championship and a lot of great memories, let's not drag it out into something ugly.
As big as a Rondo fan as I am, it was disappointing to see his classless exit after game seven. He and KG did not stick around to shake hands and congratulate the Heat. No matter what happened on the court, show some respect for your opponent. The Boston fans paid great tribute to the team, cheering and chanting as time ran out in game six, and even though the final scene was in Miami, what he did makes his team and city look bad. Time to grow up.