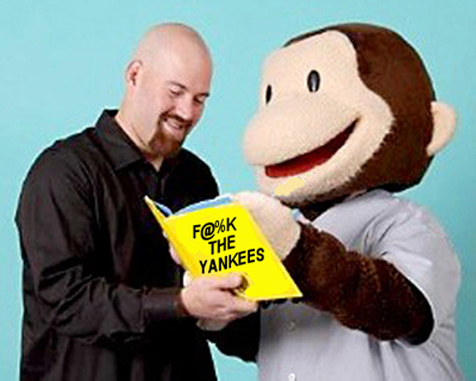 Youk. Yoooouuuuk. The Greek God of Walks. Youkbacca. The Filthy Lumberjack. Doctor Zaius. Hillbilly Pete. Jeffrey Gainseworth, OB-GYN.
Yes, we had a lot of names for Kevin Youkilis during his tenure with the Boston Red Sox. That's because he was a character. A dude who looked like he feasted on human beef and wrestled lions in his spare time. A profusely sweating, horrifically bearded monolith of a guy, who stood at the plate like he was shooting pool upside down backward and howled at himself furiously whenever he couldn't come up with a hit when we needed one most.
In many ways, he was just like us. Wearing his passion on his sleeve. Not afraid to whack himself upside the head whenever he struck out or punch himself in the nuts when he botched a defensive play (which wasn't often).
No one would ever mistake him for Carl Yastrzemski, but he was cut from the Trot Nixon cloth–a tough, unpretentious knockaround guy who gave it all on the field. In other words, just the kind of player we like in these parts.
And now he's gone. Traded to the Chicago White Sox in a move that makes room for the hit parade known as Will Middlebrooks to take on third base full-time.
While the move doesn't surprise me — Youk logged a lot of time on the DL and looked like shadow of his past self in recent years — it still bums me out. In addition to the quirky personality that made him fun to have around, Youk was also another link to that magical 2004 season. And while he may not have been Superman in this Justice League, he certainly ranked somewhere above Aquaman and Green Arrow.
The fact that it happens just as the Sox are picking it up and pulling things together sucks as well. God forbid Middlebrooks takes a ball to the knee or slips on some melon (a popular injury in the mid '80s) during the late summer push. They can't all stick around, but, man, it would have been cool if Youk could have stuck around. I know that's the sentimental view — the same sort of doomed allegiance that Johnny Mac felt for Billy Buckner in the 1986 World Series — but it's how I feel.
At least Bobby V, who earlier this year questioned Youkbacca's heart, had the decency to set him up for a Fenway farewell, pulling him for pinch runner and letting the crowd show his sweaty ass the love for years of no-bullshit play. It was nice, but, selfishly, I wanted more. Somehow the most appropriate send off for Youk would be letting him take a drunken jetpack flight around the Fenway bases or something equally outlandish.
Still, hearing the crowd chant his name and the teammates dole out the hugs was a poignant reminder that while, as Jerry Seinfeld pointed out, we're rooting for laundry, it's the guys inside the shirts who leave a mark.
You can start prepping those "Thanks, Youk" signs for Chicago's mid-July visit to Fenway Park. But in the meantime, let's all raise a glass to that bald bastard. We may well miss him more than we think.