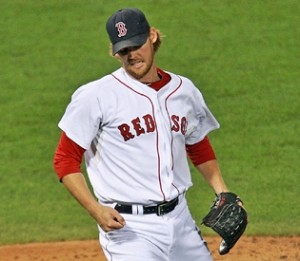 Daniel Bard struggled to find the strike zone, and when he did, Jose Bautista made him pay. An inning later Bard was done for the day, having thrown 55 pitches and only finding the plate 24 times. On the plus side, the home run was the only hit Bard allowed. Yes, that was sarcasm. Other than a Shoppach solo shot, the Red Sox offense was anemic against rookie Jay Hutchinson, putting up just five hits.
In more serious news, Toronto was the scene of a horrific shooting yesterday. Unfortunately reality sometimes crosses into the world of baseball. In this case, Blue Jays third base man was at the scene during the shooting.
Lawrie tweeted: "Pretty sure someone just let off a round bullets in eaton center mall .. Wow just sprinted out of the mall … Through traffic …"

He then described a chaotic scene in his next tweet.

"People sprinting up the stairs right from where we just were … Wow wow wow."
There was a moment of silence before today's game.
Finally, the Celtics playoff lives are on the line in game four. A win ties the series at two, a loss sends their talents back to South Beach down 3-1, and we all know how that will end.