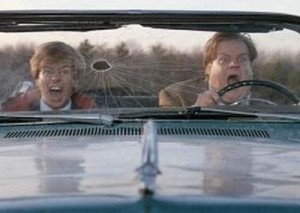 We've all had those days that when all is said and done, we'd have been better off staying in bed. The boss is on your ass about the Penske file, the old lady is nagging you to get rid of the Christmas Story leg lamp from the front window, and the parole officer is not buying your story about medicinal marijuana and those college girls. Well, the baseball equivalent of that is giving up a triple to Prince Fielder. And the way the Sox were tossing the ball around the field little league style (Ryan Sweeney respectfully excluded), Detroit's third base coach should have sent him for the inside-the-parker.
And justlikethat the win streak is over, the Sox are on the verge of being back to .500 if they lose tomorrow, and they blew a chance to finally relinquish sole possession of the cellar. Clay Buchholz kicks off the weekend series in Toronto, home of the ballpark formerly known as SkyDome…and, of course, SARS. With the Yankees playing the now-angry Tigers, I'm thinking third place for the Sox by Monday.
Adios May, welcome June!