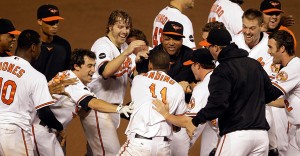 Hey Orioles. Remember us? We're the team you beat last September and celebrated like you just won the freakin' World Series. It was your 69th win of the year. That means you bums lost 93 times. And you jump around like a bunch of jackasses on our field?Then you're second baseman came out with this little quotable:
"End of season like this, to make Boston go home sad, crying, I'll take it all day," second baseman Robert Andino said after getting the game-winning hit.
We remember you. Play ball.