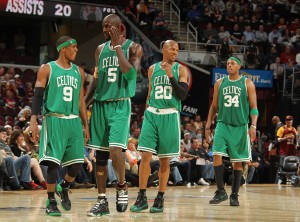 The Red Sox eked out a 6-5 win to take two-out-of-three from the Orioles. Not bad, as Meatloaf would attest. Bard was again mediocre, stirring the "put him back in the bullpen" talk. The offense was given a boost by the unlikely trio of Shoppach, Nava and Podsednik all homering. Youk and Middlebrooks each had a couple of hits and once again, the Sox sit at an even five hundred. A much-needed off day tomorrow before the Rays come to town.
Tonight, let's talk some roundball. The Celtics have a chance to close out the series with Philly tonight and advance to the Eastern Conference Finals. Any time the talk strays away from baseball, it falls on me to deal with (unless it is comic books or Star Wars, then Red is in charge). When it comes to basketball, Red gets uncomfortable with all the talk about "back door passes" and "penetration." Baggage from his prison days.
The Celtics are clearly the better team, although they've managed to let Philly stay in the series.KG made a comment about Philly's "fair weather fans" and really fueled the rivalry. My opinion: this was a calculated move by Garnett. He feeds off the energy of the crowd whether it's positive or negative. I expect a big game out of him and an end to this series.
After last night's atrocity I'm almost hoping the Heat wins the series just to set up a great showdown for the Finals. If you haven't seen the lowlights from the game, go find the video. Garnett isn't the cleanest player ever to wear the Celtic green, but this Heat team is nothing but a street gang that happens to be able to dribble a basketball. Time for the Rondo and Garnett show.